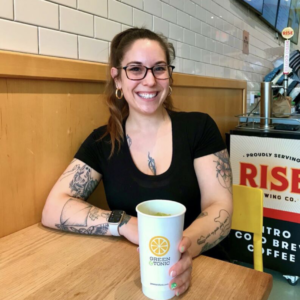 Congratulations to Layla! 🥳
Promoted from Store Manager to District Area Manager 👏
Here are some fun facts to get to know this amazing GT team leader!
✨Loves to start off her day with an GT açaí bowl blended with vanilla protein topped with energy granola, almond butter + blueberries!
✨Her favorite thing about working for Green & Tonic is of course the food and drinks 😉 but also, the guests/ GT regulars. "They are so great!"
( the customers certainly feel the same way about Layla 💛 One came up to us durning the interview, gushed about how she comes everyday to Cos Cob GT and that Layla is THE BEST 🥰
✨Layla's perfect day off: Reading, going to the gym and hanging out with her parents
✨Drink order: Iced Oat Mylk Matcha extra maple syrup!
We wanted to take this chance to value awesome team leaders like Layla 💛 If you spot Layla out on the store floor, be sure to say hi 👋