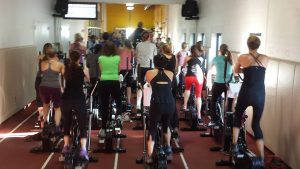 Indoorwalking is the original group elliptical exercise class that has been in Europe for over 10 years and is now in 25 countries worldwide. It's the fastest growing elliptical class around! It came to the US in 2013 and is currently at INTENSITY FITNESS in Norwalk, CT. Classes are taught using a specialized elliptical cross trainer. While the workout itself is high-intensity, it is low-impact on the body which makes it the perfect workout for all levels.
I'm totally addicted to the high-energy music, and the efficient, fast-paced 45 minute class that each certified instructor choreographs. Not only do you get a great cardio workout, but you tone core muscles and arms. It's NOT just walking – it's a series of paces from walking, jogging, running & sprinting on an elliptical machine. It's a total body workout where you burn up to 700 calories per class!
There are both weekday and weekend Indoorwalking classes at INTENSITY to fit your busy schedule.
Check out the fitness schedule here: http://www.intensity.club/fitness/fitness-calendar/
Try it once and you'll be hooked like I am!
If you want to learn more, come to Green and Tonic in Westport on Tuesday November 22nd from 9-2PM and meet Jacob Eventoff, a certified Indoorwalking Instructor from INTENSITY FITNESS as he does a demonstration.
I hope to see your in class!

by Lisa Cummings, Intensity Fitness Member, G&T Health Coach