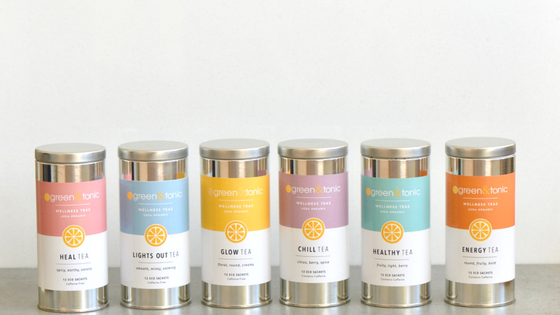 We love waking up to a cup of tea in the morning and curling up to a cup at night. We savor the ritual of steeping a tea bag until just the right moment, when the herbs, leaves, and spices have released their intoxicating aromatics. For us, tea is an essential part of our daily wellness routine.

The very best part about sipping a cup of tea, however, is how it makes us feel. So when we re-imagined our tea selections for our stores, we wanted to craft a menu with teas that doesn't just taste amazing, but whose combination of ingredients inspires a certain feeling. For months, we researched and sipped, sipped and researched until we landed on the 6 beautiful organic blends we're calling our Wellness Teas. Because that's what they do. They help you feel well.

Featuring herbs, berries, tea leaves, and spices, these exclusive blends support your every whim and your every mood. We invite you to slow down, pause and savor a cup. Did we tell you they taste amazing?
OUR WELLNESS TEAS
HEAL*
spicy, earthy, savory
A warming and restorative blend of potent anti-inflammatory turmeric, healing ginger, and circulation boosting cinnamon to support body and soul.
LIGHTS OUT
smooth, minty, calming
Rest easy with this calming bedtime-inspired herbal blend that supports deep, rejuvenating and restorative sleep.
GLOW
floral, round, creamy
Balance for mind, body and soul, this invigorating herbal blend supports digestion, hormones, skin health and overall physical rejuvenation.
CHILL
citrus, berry, spice
Organic green tea and purifying herbs offer mental clarity and balance while supporting natural detoxification & the digestive system.
HEALTHY
fruity, light, berry
Bring a healthy glow to your day with this vitamin and antioxidant-rich blend of sweet berries, stimulating guaya and green tea.
ENERGY
round, fruity, bold
A stimulating blend of adaptogenic herbs and pu-erh black tea for stamina, circulation and healthy recovery.
*contains caffeine