09 Aug

Light, Hydrating, Low Calorie Summer Soups

These light, hydrating low calorie soups are perfect for summer! Not only are they healthy and delicious, but they are also so versatile. These soups are great for a light meal on a hot summer day, a nice side for a meal or a flavorful sauce for a piece of fish or chicken.
On the Menu This Season
Creamy Cucumber Dill Soup: Our Creamy Cucumber Dill Soup is creamy and flavorful and contains probiotics which are cleansing for the digestive system. It also makes a nice sauce for a salmon dish — see our recipe below!
Watermelon Cucumber Gazpacho: Nothing says summer better than a tasty bowl of our chilled Watermelon Cucumber Gazpacho. Light and refreshing with a hint of heat, it is perfect as a summer cocktail party "soup-sip" appetizer!
Spring Pea Soup with Mint: Our Spring Pea Soup with Mint is beautiful and vibrantly green! The naturally sweet, nutty and buttery flavor of peas is nicely paired with mint, making this super-healthy, smooth and satisfying purees soup a favorite enjoyed hot or cold. It is filled with detoxifying herbs and good-for-you greens and goes well with a piece of white fish or chicken.
Lemon Miso Soup: Our Lemon Miso Soup is a macrobiotic staple and has been noted for centuries for its health benefits including improved digestion. This soup could be enjoyed hot or cold for light meal or side dish.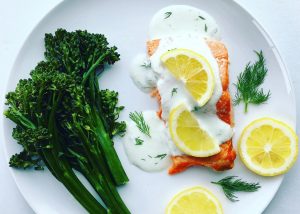 Shop Summer Soups:
[post_grid id="24984″]