While dandelions are less than welcome in your garden or lawn, they should be more than welcome in your diet! Dandelion greens come in particularly handy in spring time when incorporating these nutrient-dense greens helps us detoxify and prepare our liver for the onslaught of seasonal allergies.
Dandelion Greens are a most widely available in spring time (you'll want to catch the dark leafy greens when they're still tender).  If you're foraging in the wild (or even your own backyard is pesticide-free/chemical free!
Dandelion greens offer a bitter, peppery flavor that works well raw or cooked. They're low in calories — each 2-cup serving contains just 50 calories — and come packed with vitamins and other nutrients important for good health.
Add dandelion greens to your diet to reap the health benefits of their impressive nutrient content.  (I'll share how to add them into your diet below)
But, first! Check out their list of benefits…
They are excellent sources of vitamin C and calcium
Both Vitamin C and calcium positively affect your bones. A serving of dandelion greens provides 206 milligrams of calcium, or 21 percent of the recommended daily intake for most adults, according to the Institute of Medicine. Each serving also contains 39 milligrams of vitamin C — 43 percent and 52 percent of the recommended daily intakes for men and women, respectively.
They also:
Support nerve cell communication and contribute to nervous system function
Contain flavonoids that give dandelion its "blood purifying" properties
Contain lots of potassium that restore the mineral balance in the kidneys
And …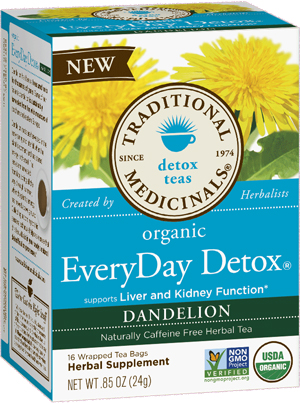 Dandelion greens cleanse the liver 
The vitamins and nutrients present in dandelions help cleanse our livers to keep them working properly. The role of our liver is to produce bile, which helps enzymes in the body break down fats into fatty acids — and to filter and detoxify our blood.  Dandelion greens help support this.
So how can I add dandelion greens into my diet?
First, raw dandelion greens' bitter taste might take some getting used to, but there are many ways to incorporate them into your meals and mellow their flavor.
Try sautéing them with diced onions or minced garlic, or steam them for a healthful side dish.
Mix chopped dandelion greens with other leafy greens — such as spinach or romaine lettuce — for a flavorful and nutrient-dense salad.
Add a handful of greens to your favorite soup, or use a few dandelion leaves in a sandwich or wrap for flavor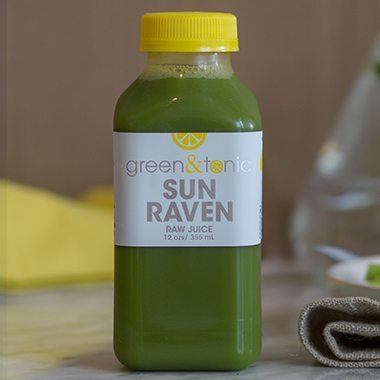 Try our Sun Raven cold-pressed, raw, green juice that contains dandelion greens mixed with cucumber, fennel, celery, kale, lemon, parsley, ginger, turmeric, cayenne. It's a burst of delicious and refreshing enzymes, nutrients and healing goodness!
Our new Spring Cleanse includes Dandelion Detox Tea. If you need to add a little sweetness, stir in a touch of raw honey, and you're good to go.

Interested in learning more about how to add more nutrient-dense foods into your diet? And make it delicious? 
 Feel free to contact Lisa Cummings, one of our Green & Tonic Health Coaches and schedule a free 30-minute health consultation at a Green and Tonic near you.
(917) 856-4942 or visit livewellbydesign.net