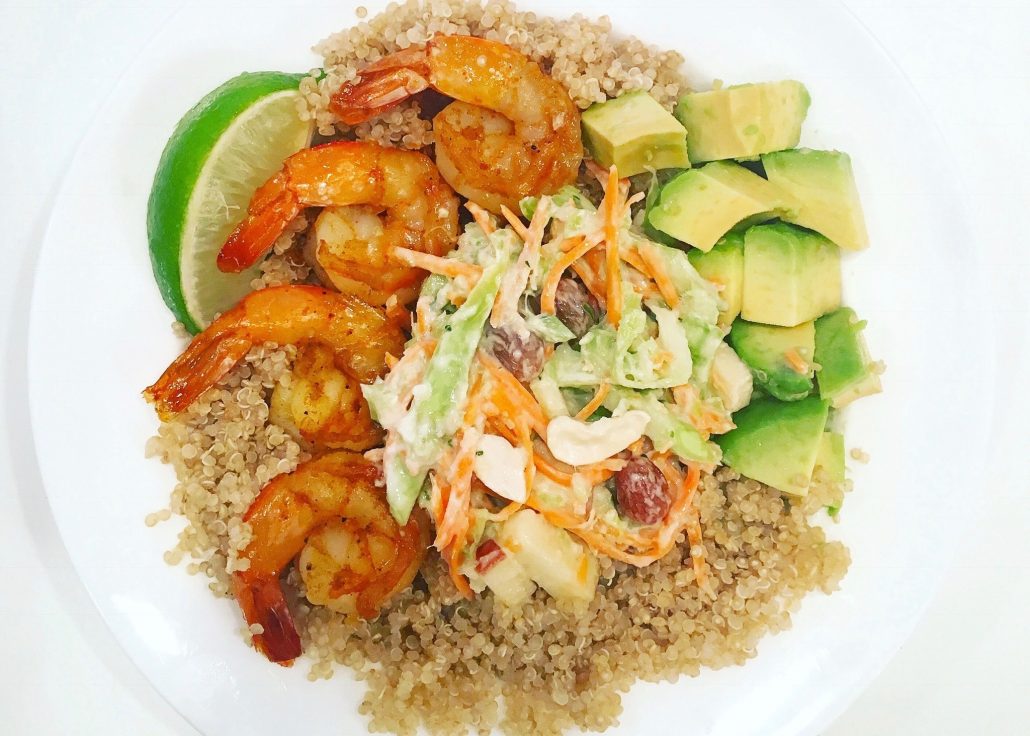 Put a healthy twist on a summer classic! Our Broccoli Waldorf Salad makes a great topping for this shrimp taco bowl. With shredded broccoli stems and carrots, sweet apples, golden raisins, cashews, and a tangy dressing, this salad is packed with both nutrients and flavor. We used sautéed shrimp here, but this dish would also work well with a grilled, baked or sautéed white fish. In under 30 minutes, you have a delicious, summer favorite to share with friends or family.
Ingredients (4 servings)
2 g&t broccoli waldorf salads
1 lb shrimp
2 tbsp olive oil
1 tsp chilli powder
1/2 tsp cumin
2 large cloves of garlic, minced
1/2 tsp smoked paprika
1 cup quinoa
1.5 cups water
1 large avocado, diced
1 lime
sea salt & pepper
Directions
Bring quinoa water to a boil, and then cover and reduce to a simmer for 15-20 minutes. Remove from heat and let it sit covered for an additional 5 minutes. While the quinoa is cooking, toss shrimp with spices evenly coated. Heat olive oil and garlic in pan for 1-2 minutes and then add shrimp. Cook the shrimp on medium-high, stirring frequently for 4-5 minutes or until the flesh is totally pink and opaque, and you see no more grey bits. Serve quinoa topped with shrimp, g&t waldorf salad, avocado and a slice of lime!
More G&T Recipes: