A Healthy Twist on Your Summer Cocktail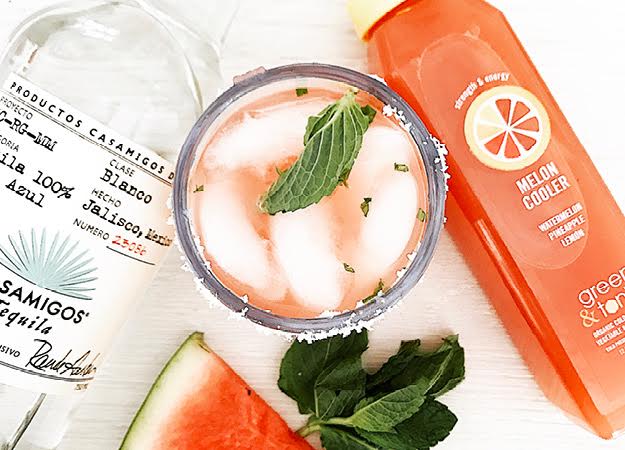 Summer is for barbecues, beach days, bonfires, and a few drinks to top it off. Put a healthy twist on your summer drinks and impress your friends with some of our favorite G&T cocktails.
Getting Started
Less is More. Not everyone can be a master mixologist, but that doesn't mean you can't create a delicious cocktail for summer. You don't have to go over the top and mix in every ingredient under the sun; sometimes it's better to just keep it simple.
Be Prepared. Its always better to have the drinks flowing when your guests arrive, so prepare your drink before hand in a glass jar, and toss it in the fridge.
Don't Forget to Garnish. A nice addition to any drink is the garnish. So top your cocktail off with some pineapple or orange peels, maybe some mint, the options are endless.
Our G&T Recipes
Just because you're having a cocktail doesn't mean it can't be healthy. Take your favorite liquor, add some club soda, seltzer or even tonic water and top it off with one of our Green & Tonic juices. Now you have a healthy cocktail that tastes great to jump start your weekend. Here are some of our favorite G&T cocktail recipes!
Melon Cooler Margarita
1.5 oz. Tequila
4 oz. G&T Melon Cooler
Lime juice
Agave
Sea Salt
Fresh Mint
Line the rim of your glass with a lime wedge and then dip the glasses in sea salt. Mix tequila, Melon Cooler, lime juice and agave and shake well. Serve on the rocks and garnish with fresh mint.
Jungle Juice
4 oz. G&T Jungle Juice
1.5 oz. White Rum
2 oz. Coconut Water
Jalapeño (optional)
Garnish with cucumber
Shake and serve over ice!
Fireball Margarita
1/2 Cup Frozen Strawberries
4 oz. G&T Fireball
1.5 oz. Vodka or Tequila
Garnish with lemon
Blend all ingredients and serve!

Turmeric Tonic
4 oz. G&T Turmeric Tonic
1.5 oz. White Rum
2 oz. Seltzer
Garnish with orange
Shake and serve over ice!